Description
KOLOB #1 MINE
UMC426230
20 Acre Unpatented Placer Mining Claim on Federal Land in Washington County, Utah
This 20 acre placer claim is fairly easy to access as a road runs right through it. It is located in Washington County, Utah. This particular area is known for productive placers.
The most important placer district in Utah is the Pinto district, which produced more than 75,000 ounces of placer gold. The placers in the Pinto district occurred in thick gravel deposits in Pinto Canyon and tributary drainages and were derived mostly from oxidized copper and lead-zinc-silver ores of Oligocene age.
Most of the other productive placers in Utah occur along the major river drainages in the eastern part of the State, where sporadic accumulations of flake gold in sand and gravel bars have been mined. Small placers are found associated with lode deposits in scattered areas throughout Utah.
Although Utah is seldom mentioned as a major gold producer it is rated sixth in the United States. Most of the production came as a by product of copper mining.
Buyer will receive the following with their completed transaction:
Quitclaim deed showing full ownership of the claim. This will be stamped, recorded and verified with the County and the BLM offices.
Welcome packet with all of the rules and regulations as they relate to the State and BLM where the claim is located.
Educational documents to annually renew your mining claim with the BLM.
A CD of all of the documented images of the claim including maps of the site.
Map of claim marked and GPS coordinates.
Multiple maps showing claim location and surrounding areas for access.
Come to Hike, Camp, Ride and Shoot - or come to pull some shiny rock$ out of the ground;-)
RV Parks/Campgrounds:
Red Ledge RV Park & Campground – 19.11 miles
Temple View RV Resort – 32.93 miles
Leeds RV Park and Motel – 24.68 miles
Zion West RV Park – 24.70 miles
HISTORY
Ghost Town History of Silver Reef, Washington County: 
Silver Reef is a ghost town in Washington County, Utah, United States, about 15 miles (24 km) northeast of St. George and 1 mile (1.6 km) west of Leeds. Silver Reef was established after John Kemple, a prospector from Nevada, discovered a vein of silver in a sandstone formation in 1866. At first, geologists were uncertain about Kemple's find because silver is not usually found in sandstone. In 1875, two bankers from Salt Lake City sent William Barbee to the site to stake mining claims. He staked 21 claims, and an influx of miners came to work Barbee's claims and to stake their own. To accommodate the miners, Barbee established a town called Bonanza City. Property values there were high, so several miners settled on a ridge to the north of it and named their settlement "Rockpile". The town was renamed Silver Reef after silver mines in nearby Pioche closed and businessmen arrived. In 1879, a fire destroyed several businesses, but the residents rebuilt them. Mines were gradually closed, most of them by 1884, as the worldwide price of silver dropped. By 1901, most of the buildings in town had either been demolished or moved to Leeds.    
In 1916, mining operations in Silver Reef resumed under the direction of Alex Colbath, who organized the area's mines into the Silver Reef Consolidated Mining Company. These mines were purchased by American Smelting and Refining Company in 1928, but the company did minimal work as a result of the Great Depression. The Western Gold & Uranium Corporation purchased Silver Reef's mines in 1948, and in 1951, they began mining uranium in the area. These operations did not last long either, and the Western Gold & Uranium Corporation sold their mines to the 5M Corporation in 1979. Today, the Wells Fargo office, the Cosmopolitan Restaurant, the Rice Building, and numerous foundations and walls remain in the town site, and a few dozen homes have been constructed in the area.
Gold was discovered in the county sometime in the late 1800s and the area was being actively prospected by 1895. This early work did not lead to any significant production although a total of 40 lode claims and 1 placer claim were brought to patent as a result of the early work. The area was largely ignored until the mid-1970s when a search was begun for disseminated gold deposits of the type then being actively mined in central Nevada. This search was successful and led to the production of approximately 200,000 ounces of gold and a somewhat smaller amount of silver from 12 near-surface deposits. The bulk of the ore in eight of these deposits was found in a sandstone host rock occurring at the base of the early Tertiary Claron Formation. High-angle faults appear to have been important in localizing ore in these deposits as well as in the other four deposits, where most of the ore occurred in brecciated and silicified Paleozoic limestone units.
ABOUT THE MINING DISTRICT
The Pinto creek was first discovered in the summer of 1864, when John Pato, Thales Haskel, and Benjamin Knell settled on a creek which they called Pato Creek. The name soon changed to Pinto Creek which is now the town of Pinto. Pinto, with its lush meadows and clear stream of good water, was a natural stopping place on the Old Spanish Trail. The chief products carried over this trail, before the coming of the Mormons, were Indian slaves and peltries.
GEOLOGY
The pre-Tertiary rocks in the county are complexly folded and faulted and record a long history of tectonic activity that culminated in extensive overthrusting of the Paleozoic rocks onto a sequence of clastic rocks of Mesozoic age. This overriding thrust is not exposed in the county but most likely underlies the entire district. Following this period of thrusting the area was nearly beveled by erosion. The Claron Formation was then deposited across the beveled surface, followed by extrusion of large volumes of volcanic tuffs. Later high-angle faulting offset the Tertiary rocks and formed conduits for the mineralizing solutions that produced the gold-silver ore bodies.
Utah's gold concentrations generally line in the central part of the state in a north to south zone. Most of the gold areas are within an easy drive from Salt Lake City. On the western side of the Oquirrh Range is the world's largest copper mine. It is located in Bingham Canyon and gold has been produced in the same Canyon since 1863. Mining is important to Utah's economy. Commercial placer operations in Utah have been mostly considered unsuccessful, however, in many parts of the state there are large areas of stream and bench gravel that have not been tested. Lack of water in many areas has hampered prospecting efforts.
Geography 
Pinto Creek is situated between Cove Mountain on the west and Kane Point on the east. Our team did get cell service the entire time out there.
Climate 
The weather in Southern Utah is gorgeous, with over 300 sunny days each year. The clear blue skies are nice all year long, and the dry desert climate lends to mild winters and hot, dry summers.      
Washington County, Utah, gets 11 inches of rain per year. The US average is 37. Snowfall is 8 inches. The average US city gets 25 inches of snow per year. The number of days with any measurable precipitation is 46.                          
On average, there are 257 sunny days per year in Washington County, Utah. The July high is around 98 degrees. The January low is 25. Our comfort index, which is based on humidity during the hot months, is a 53 out of 100, where higher is more comfortable. The US average on the comfort index is 44.
ACCESS
The main road that leads you to the claim is E. Pinto Canyon Road. The road itself goes through the same, since it follows Pint Creek. Very easy two-wheel drive to reach the claim, and you will notice a couple turn out spots throughout the road. The road itself is very close to the creek, so parking your vehicle on the side of the road, will give you plenty of easy access to and from the creek.  
LEGAL INFORMATION
A mining claim gives the holder the right to mine on mineral-rich land that belongs to the federal government.
 
Mining claims are a tangible asset and show proof of all  interests in minerals in the area. They can be bought, sold or used as collateral, just like any other piece of real estate. A mining claim can be sold, traded, leased, gifted, willed, used as collateral or transferred in part  or in its entirety just like any other real property using a quitclaim deed  which is a recordable conveyance.
We offer a lifetime guarantee should the BLM take back the land.
As the largest company in the mining industry selling legitimate and valuable historic claims, you can rest assured that you are not only covered with our 100% lifetime money-back guarantee, but you can also rest easy that there is no fine print on any of our claim listings telling you will have to deal with any games like being charged phony fees or having to pay inflated "processing" or "transfer" fees. The listing price for this mine is ALL you will pay.
*Please contact us first should you decide on a payment plan.
SHIPPING
We'll take care of all the paperwork and arrangements so you can enjoy your claim immediately after payment and we keep you informed through the entire process with confirmations when payment is received, when your paperwork has been shipped out.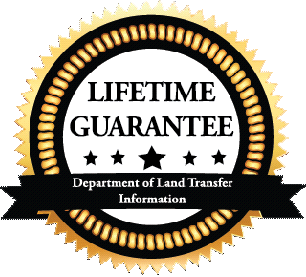 While we cannot physically ship land to you as it doesn't quite fit into the mail box ;)
We will ship all paperwork/maps upon payment clearing we ship same business day(if payment is received by 1PM P.S.T.) We always provide tracking information so you are always informed.