Description
PAY QUEEN

                                                                        NMC1136381
20.66 Acre Unpatented Lode Mining Claim in the Wonder Mining District / Churchill County Nevada
The historic Pay Queen Mine has been on the record books for more than 108 years, but shows signs of more recent workings, which is always an indicator of additional values on the claim. With a total of three mines on this claim, it is very likely that at least one of the mines was a more recent cut and probably opened and worked in the 1980's or so.
Our team was only able to access one of the mines because of a strong weather front that moved in that day, and was a well-cut, 96' long adit in great shape. Once fully tracked for ore cart use, all that remains are the wooden ties with hand-made spikes. The rail itself has been pulled – likely for use on one of the other mines. The other two mines have not been explored and await the new owner of the claim.
This is a nice and secluded ravine which is accessed by a dry wash, and our team did not see any signs of recent traffic.  Unless you knew that these mines were here, you could likely plan on not seeing another sold while you worked this claim. This means any equipment and ore you may leave at the mines while away will mostly likely be unseen and untouched.
We only recorded 1 bar of Verizon cell phone service at the claim, and we did not have any AT&T service. But there is a clear view to the sky, so our Iridium satellite phone service was at full strength. There's not any large areas for staging equipment, but the 15 to 20-foot wide dry wash is very private, so you won't have to worry about any traffic on your claim and you can use it for camping, parking and staging equipment without having to worry about blocking the road.
There's 703 cubic yards of tailings at just the first mine. Extensive XRF readings and sampling was done in the mine itself – and although we did not detect any crazy-high gold or silver readings, we did get good/consistent readings for both Au and Ag at numerous spots within the mine itself (on and off the vein), so you can plan on plenty of decent mid-grade ore at numerous locations worth working inside the Adit.
Buyer will receive the following with their completed transaction:
Quitclaim deed showing full ownership of the claim. This will be stamped, recorded and verified with the County and the BLM offices.
    
Welcome packet with all of the rules and regulations as they relate to the State and BLM where the claim is located.
    
Educational documents to annually renew your mining claim with the BLM.
    
A CD of all of the documented images of the claim including maps of the site.
    
Map of claim marked and GPS coordinates.
    
Multiple maps showing claim location and surrounding areas for access.   
Because X-ray fluorescence will only give you surface readings within a few microns of the face, history shows that numerous consistent readings are always better than a small amount of inconsistent high-grade readings/pockets, as you will have a lot more material to work thereby supporting a good-sized operations for a long time before you even turn to re-working the large amounts of tailings onsite with today's much more efficient processing methods.
There are a few spots not to far away from the claim, where you can camp and leave your RV.
ABOUT THE MINING DISTRICT
WONDER MINING DISTRICT, CHURCHILL COUNTY, NV
Wonder, Nevada, was a town in Churchill County, Nevada, approximately 39 mi (63 km) miles east of Fallon at an elevation of 5,853 ft (1,784 m). Today Wonder is a deserted ghost town.
Wonder Mining District is in Nevada, Southwest, located between Porphyry Peak and Driscoll Peak, and is also nearby to Camelback Peak and Wonder Mountain.
The gold and silver veins of Wonder consist mostly of quartz, adularia (a hydrothermal feldspar) and brecciated volcanic rock. The ore minerals, which are contained mostly as fine disseminations within the veins, include acanthite (silver sulfide), gold and several silver halides. Wonder is classified as a low-sulfidation (adularia-sericite) epithermal deposit. The veins were deeply oxidized, and there was some secondary enrichment; both of these factors made the Wonder veins more economical to mine.
Churchill County was one of Nevada's nine original counties when founded in 1861. Churchill County has produced a total of 164,605 ounces of gold as a byproduct of lode mines. Placer mining has been insignificant. The best chances for placer are in the Terrill Mountains and Barnett Hills in the southwestern corner of the county, gravel deposits in the Trinity Range northwest of Alkali Flats and the placers at the north end of the Sand Springs Range in the southern part of the county.
Annual high temperature: 68.1°F
Annual low temperature: 37.1°F
Average temperature: 52.6°F
Average annual precipitation - rainfall: 4.91 inch
Av. annual snowfall: 7 inch
Other things to do in Fallon, Churchill County – near Wonder Mining District:
Hunting,  golf,  fishing, museums, parks, race tracks, art galleries, farmers markets
TO VIEW MORE PICTURES: CLICK HERE
ACCESS
Access to the main mine was excellent – a good, wide and well maintained dirt road up until about the last mile to the claim. The last mile is then a hidden turn up an old dry wash – with the GPS coordinates we will provide the purchaser, you'll have no problem finding it. But the general public will not be so lucky. That last mile is a little overgrown from lack of use/travel, but I will still call it two-wheel drive the entire way, as it is not very steep.
 LEGAL NOTES  
A mining claim gives the holder the right to mine on  mineral-rich land that belongs to the federal government.
Mining claims are a tangible asset and show proof of all interests in minerals in the area. They can be bought, sold or used as collateral, just like any other piece of real estate. A mining claim can be sold, traded, leased, gifted, willed, used as collateral or transferred in part or in its entirety just like any other real property using a quitclaim deed which is a recordable conveyance.
We offer a lifetime guarantee should the BLM take back the land.
As the largest company in the mining industry selling legitimate and valuable historic claims, you can rest assured that you are not only covered with our 100% lifetime money-back guarantee, but you can also rest easy that there is no fine print on any of our claim listings telling you will have to deal with any games like being charged phony fees or having to pay inflated "processing" or"transfer" fees. The final listing price for this mine is ALL you will pay.
Our in-house legal counsel will complete all of the paperwork and documentation for recording and transferring FULL ownership of this mine into your name if you purchase, AND we will ship you everything in one to two business days of receipt of your payment in full (usually just one day!). So you can plan to visit (and start working) your claim the next day without the lengthy delay you will experience with other companies selling claims –and you will not have to pay any extra costs, fees or other poor excuses for extra profit that normally just go into a seller's pocket.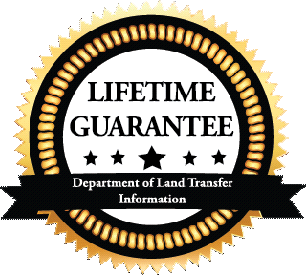 SHIPPING
While we cannot physically ship land to you as it doesn't quite fit into the mail box ;)
We will ship all paperwork/maps upon payment clearing we ship same business day (if payment is received by 1PM P.S.T.) We always provide tracking information so you are always informed.